A "Close Encounter" describes an Event in which a person witnesses an Unidentified Flying Object (UFO) — derived from Ufologist J. Allen Hynek 's classification in his 1972 book, The UFO Experience: A Scientific Inquiry.
THE SURVIVAL TRILOGY features many Out-Of-This-World Encounters — the kind that tingle your spine … and make you Wonder about your Place in the Universe.
Book 1 A GLEAM OF LIGHT
The story begins with a documented UFO event (May 25, 1995) — America West Flight 564 enroute from Florida to Las Vegas around 9:20 p.m. — when a flight officer reports something strange. The crew witnesses a "row of bright white lights", part of a solid object. In the captain's words: "…the length is unbelievable!" Our central character, Una Waters (age 8) is on that Flight.
Twenty-one years later, a plea for help brings Una back to her roots in Hopiland, where she seeks advice from old 'spirit woman' Kuwanyauma. When she speaks, it is like hearing Ancient Voices. Una learns about the Four Races in Hopi Mythology — and the roles of Guardianship given to each by the Great Spirit.
Una ventures into the night desert with friends, hoping to find the Mystery Cave that has sparked controversy and triggered a U.S. Army invasion of the Sacred Peaks. Near the cave entrance, she is attacked by a beastly creature known as a SKINWALKER (To the Navajos … 'he who walks on all fours'.)
The Mystery Cave reveals an ancient underground city — Palatkwapi — part of Hopi Mythology about the five Ages of Mankind, and Help with our SURVIVAL from one Age to the next — from beings referred to as the "Ant People". UNA discovers an Ancient Artifact — the Hopi Rattle — and its power to open "doorways" to other Dimensions.
Book 2 THE DRAGON'S GLARE
Three years later, Una comes face-to-face with the gaping maw of a Chinese Dragon — at the New Year's parade in Chinatown, New York City. Unexplained events, including a cyberbreach at the NYPD and an episode of "Missing Time" will lead to an Out-Of-This-World Encounter — that confirms Una's childhood beliefs in Sky People.
At the 5th Precinct in Chinatown, RUFUS (resident computer geek and symbology expert) tries to analyze mysterious Graffiti left at a crime scene during the Chinese New Year parade. UNA and Maddie, on special assignment from D.C., will need his help.
With Maddie's help, Una befriends the owners of a Chinese restaurant — Lao-Chi. The grandfather, MR. LAO, a Tibetan Lama with mystical powers, offers her timely advice derived from Ancient Wisdom.
Una comes to realize that she is being followed by a mysterious stranger in Chinatown. She finally meets him Face-to-Face late one night at the Hayden Planetarium — to discover that he's an Otherworldly Visitor. Una calls him CASPER — because he reminds her of a "friendly ghost".
Book 3 BEYOND THE WORLD
One year later, during her 'Honeymoon Adventure' in Yosemite, Una discovers a UFO Mystery at Upper Young Lake with the help of new friends from Explorer's Club — and coincidentally — encounters "maybe the biggest OWL" she ever saw.
The UFO (combined with dead birds falling from the sky) has UNA all shook up. She calls for Help — from the one person who would believe her — Jack Howser, investigator of UFOs and all things Paranormal from Books 1 & 2. Jack will not let her down.
Soon after entering forgotten Indian Caves to elude a military man-hunt, Una and friends discover Living Pterosaurs — and their role transporting contaminated water from Yosemite to major cities like Sacramento. It's all part of an ALIEN Conspiracy to take over planet Earth.
Tracking a series of Otherworldly Campsites — with clear signs of Terra-forming and genetic manipulation to recreate plants and animals considered to be Extinct — leads UNA to "OI" — one of the Alien-Human Hybrid camp inhabitants, being trained for Earthly occupation.
Out-Of-This-World Encounters, the kind that tingle your spine and make you Wonder about your Place in the Universe … can CHANGE your life Forever — the way Flight 564 did for Una Waters in A GLEAM OF LIGHT.
You may also find that Reading THE SURVIVAL TRILOGY … will change Yours.
***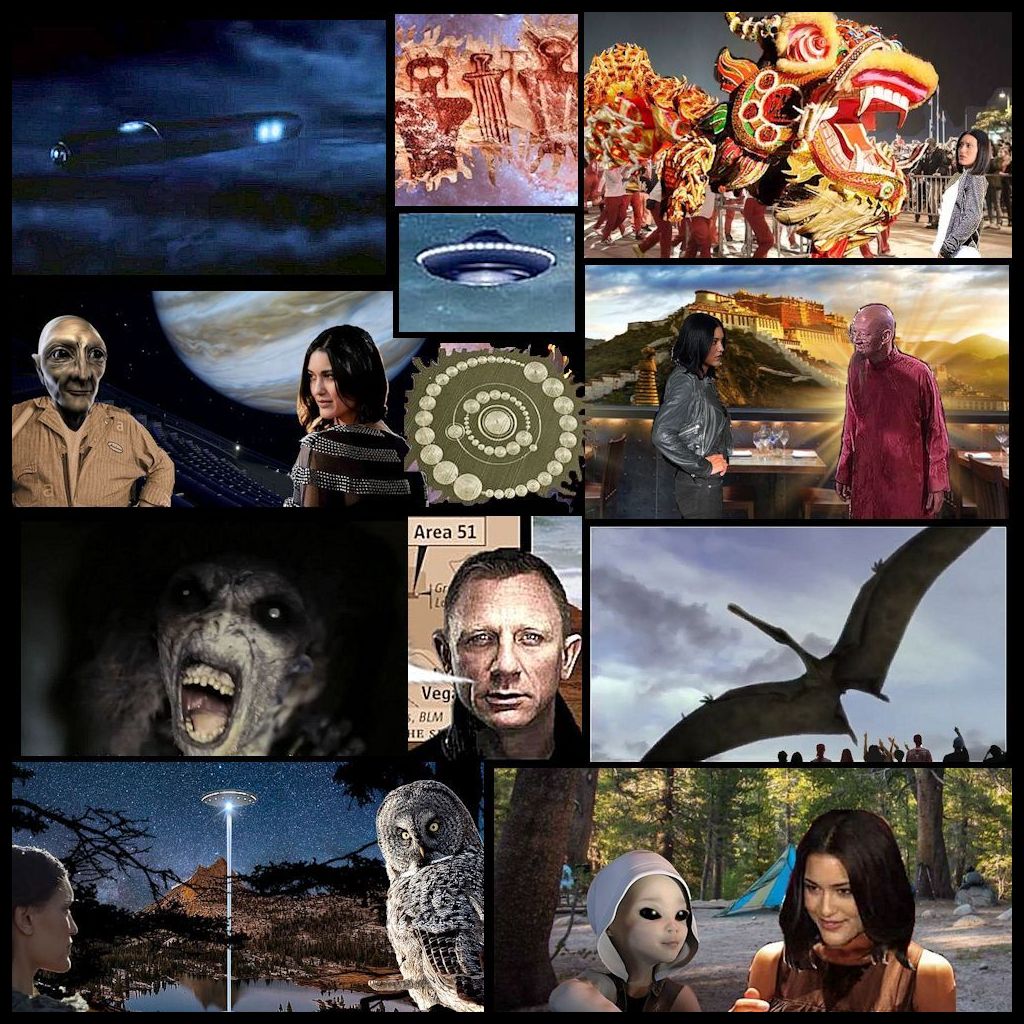 Close Encounters — THE SURVIVAL TRILOGY. Explore more on Pinterest — https://www.pinterest.com/tjwolfauthor/