Science Fiction is one of the most dominant genres of our time. Once considered mainly for nerds, its popularity has exploded since the year 2000. With the expansion of Sci-Fi movies and TV shows like Star Wars, The Avengers and Star Trek, its influence will only continue to grow. For many of us it represents the cultural moment of the 21st century.
Enter THE SURVIVAL TRILOGY. When Authors T.J. & M.L. Wolf penned their first novel in 2016, they had no idea how it would change their lives. With paperback, ebook and Audiobook versions now available through Amazon and Audible to readers around the World, they are currently looking to the Future, with high hopes for Hollywood.
Publishers Weekly described Book 1 A GLEAM OF LIGHT as "Native American mythology intersects with UFOlogy in this earthbound tale of first contact and extraterrestrial influence … The Wolfs venture into Chariots of the Gods territory by suggesting that visitors from outer space may have influenced the mystical beliefs of Native American tribes and other ancient civilizations, but this is still a timely tale about the sanctity of tribal lands and Una's reaquaintance with her heritage."
After giving recent Interviews to a number of media outlets, including AwesomeBookPromotion.com, it seemed appropriate to share one here, from THE AUTHOR INTERVIEWS:
Tell us a little about yourself?
We joined forces in the field of Healthcare, exploring mutual interest in the work of UFO researchers like Budd Hopkins and movie directors like Steven Spielberg. The History Channel's "Ancient Aliens" became a focal point of our quest to uncover the truth regarding humanity's purpose and how it pertains to our future. Married over twenty years, we write Speculative Fiction that appeals to women and young adults, and live in Boardman, Ohio with our six-pound Yorkie, who keeps the family in line.
When did you start writing?
Writing became a serious hobby in High School with introduction to The Lord of the Rings. But it was really STAR WARS that sparked an urge to create and write stories of our own. "Fire in the Sky" opened the door to reality-based storytelling about Alien Life and Human Contact. And so we embarked on a quest to learn as much as possible from researchers like Budd Hopkins, David M. Jacobs, Richard Dolan and Linda Moulton Howe.
Does writing energize or exhaust you?
Energize. Writing is storytelling. When you have an important story in mind that needs to be told — because the message it carries has the potential to change people's lives — and you feel with all of your heart that YOU are the one destined to tell it, then writing becomes the most important thing you can be doing — right now.
Do you have any unusual writing habits?
From the start, we treat our story as if it's meant to be heard. And so we read each chapter out loud, listening for dramatic flow and pacing, listening for the character voices — waiting for the key line or phrase that gives the chapter its title and the final surprise for the reader, which makes them want to turn the page to read more. It's got to sound right — or we change it until it does.
Have you gone on any literary pilgrimages?
Not really (Though we do fantasize about visiting location shoots when the movies are made.) All research is done remotely — through reading, watching online videos, etc. The closest we have ever come to a literary pilgrimage is to "travel" to another location through the eyes of others, absorbing their observations from first-hand experience. To achieve this, we read lots of traveler comments and vacation blogs.
Can you name one feature that sets your books apart?
DIVERSITY. We found inspiration in Hopi mythology and prophecy — and were fascinated with the concept of the Great Spirit giving specific forms of Guardianship to each of four human races based on skin color: red, yellow, black, and white. It seemed like a great foundation for a Science Fiction Trilogy. Book 1 A GLEAM OF LIGHT explores the connection between Native American mythology and Ancient Aliens. We explored Asian mythology in Book 2 THE DRAGON'S GLARE and African mythology in Book 3 BEYOND THE WORLD. Diversity lives and breathes through our characters … and we believe it is the Key to fighting Racism.
Do you read reviews?
Yes, but only up to a point. Constructive criticism can make your next book better — and we actually took a few reviewer comments about Book One to heart when designing the storyline for Books Two and Three. It made for a better series.
What was the best money you ever spent as an author?
The narrator for our Audiobooks. KAT BOHN is a professional voice actress, but also an amazing person. Working with her on the series has been a real learning experience. She pushed us to visualize each character in a very real way with "dream casting". Throughout the entire process, she has been a constant source of encouragement and inspiration. She brought our characters to life.
What's the most difficult thing about writing characters from the opposite sex?
T.J.: Women think differently from men. They see the world from a completely different point of view. My wife and writing partner is always there — to show me what I'm missing.
Do you hide any secrets in your books that only a few people will find?
Yes. A number of times, descriptive details are drawn from personal experience, about people that we know, places we have been, or characters voice familiar quotes … that only friends or family would recognize.
Do you have any advice for young authors?
Write the kind of story that YOU would love. Populate your world with characters who mean something to you. You will be spending a lot of time with them. If you want their actions and reactions to feel plausible, find out through research about things that have really happened, and make that part of your story.
How long on average does it take you to write a book?
About one year. From the start, we have goals in mind, including the number of chapters and pages. We usually begin in January, writing about one chapter a week (sometimes two, when the ideas are really flowing) to complete the book by mid to late November. This gives us time to format and proofread and get everything uploaded to our publisher — for a publication date in December.
Tell us about your latest release?
BEYOND THE WORLD (Book 3 THE SURVIVAL TRILOGY) follows the main character, Una Waters, on her "honeymoon adventure" in Yosemite National Park, where a UFO Mystery, strange Otherworldly campsites and Living Pterosaurs all point to an Alien Conspiracy. Her personal journey in search of the Truth, which began in Book 1 A GLEAM OF LIGHT and continued in Book 2 THE DRAGON'S GLARE finally comes full circle. Readers can get a better sense of the overall storyline by viewing our dramatized Audiobook Trailers for each book on YouTube.
What was the hardest scene to write?
It's always a challenge to write scenes that involve Close Encounters with the Supernatural, because it involves visualization of events which we have not experienced personally. (As far as we know!)
Where can we find it?
On AMAZON and AUDIBLE.
What are you working on now?
Promoting awareness of THE SURVIVAL TRILOGY to as many readers as possible through Social Media like Instagram, Facebook, Twitter, Pinterest and YouTube. We've written letters to schools, libraries, bookstores and book clubs across the nation. We have also contacted Entertainment Magazines, Film Festivals, Studios and Film makers. Book 1 A GLEAM OF LIGHT received a glowing review in the October 23, 2017 issue of Publisher's Weekly. In 2019, we were honored and thrilled when it became an Award Finalist for Young Adult Sci-Fi in the Readers' Favorite International Book Awards! Hopefully, interviews like this one will help spread the word.
Thanks for doing this! Any parting words for readers?
To quote Galaxy Quest (one of our favorites): "Never Give Up, Never Surrender!" And keep looking to the stars. If you have ever searched the night sky or wondered about your place in the universe, consider THE SURVIVAL TRILOGY as your next read. It could change your life … forever.
***
---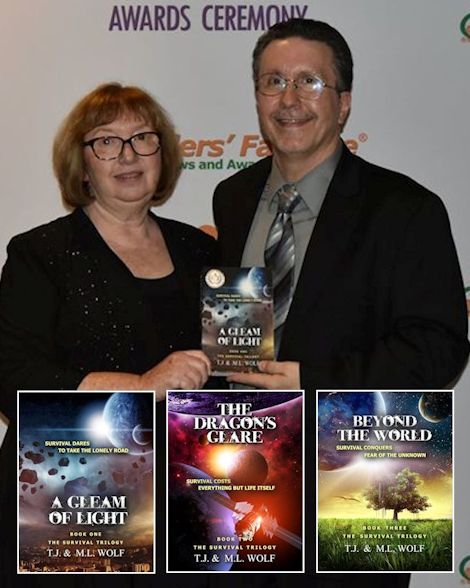 Readers can find our latest interview on AwesomeBookPromotion.com here: https://awesomebookpromotion.com/?p=23963
---